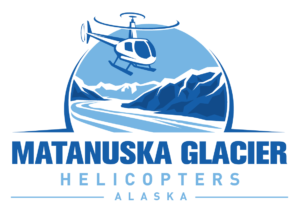 (907) 351-7587
Matanuska Glacier Helicopters offers Helicopter Tours from Sheep Mountain Air, with Glacier Landing Activities from MICA Guides. Ranging from Relaxed Aerial Glacier Sightseeing to an Advanced Fly-In Trekking or Ice Climbing Expedition, the choice is yours.  Matanuska Glacier Helicopters helps you see the Matanuska Valley in all of it's glory.  The Matanuska Glacier stretches 27 miles into the mountain, and we don't want you to miss out on an inch of it.  From the air you can see the glacier, the surrounding mountain passes, and Alaska's majestic wildlife.  Matanuska Glacier Helicopters brings together the highly trained guides from MICA Guides and the best Alaska helicopter professionals from Sheep Mountain Air to make these tours a must do when traveling to Glacier View, about 2 hours NE of Anchorage.
Spend the night out on a glacier in luxury.  Fly out and camp in comfort and style.
Take the express lane to Matanuska Glacier. 30 minutes in the air and 15 minutes on ice.
Let us know what you want out of your helicopter and glacier activity.
Matanuska Glacier Helicopters and Hikes
Let Matanuska Glacier Helicopters coordinate an aerial view of the Matanuska Glacier, the Matanuska River, and the Peaks of the Surrounding Mountain Range.  Book your Tour, and prepare to be in awe. We are a short drive from Anchorage, with a beautiful scenic drive the whole way here. Sheep Mountain Air can take you up for 25 minute flights, or land you on the glacier to join MICA Guides for an incredible hiking experience.  We want to make this flight one of the best experiences of your life, so Book Online or call us at  (907) 351-7587
Guided by MICA Guides, Flown by Alaska Professionals
MICA Guides is part of the Exposure Alaska family of companies providing a variety of Guided Tours in Alaska, including Glacier Hiking, Ice Climbing, Trekking Expeditions, Kayaking Trips, Zipline Adventures, and more.  MICA Guides accommodates all levels of tours, from Scenic Hikes to Multi-Week Expeditions through the wilderness.
We only fly with the best!  The most experienced pilots with the best helicopters.  We may partner with different flight operators depending on the location and the mission but they're all licensed, insured, and experienced in Alaska aviation.
We want you to see the Matanuska Valley the right way, from the sky.  The immense scale of the glacier can only be truly realized from the seat of our helicopters.  Guided by MICA Guides, one of the most popular Guiding companies in Alaska, our helicopter tours have the best local information from people experienced in hiking, climbing and mountaineering. All of our guides and pilots are rigorously trained and prepared to make your tour as good as it gets.
Matanuska Glacier News
Over the span of a few years there have been a few additions to the different ways you can explore the Matanuska Glacier. With the collaboration of a few different local businesses, there is now an experience that stands out amongst the others; The glacier overnight luxury camping experience. The heli landed next to glacier camp on the moraine Cultivating a Dream This dream was cultivated with the expertise of MICA Guides, Alpenglow Luxury Camping, and Matanuska Glacier Helicopters. These professionals were able to form the trip of your Alaskan dreams. First you fly out over the [...]
Alaska is known as 'The Last Frontier" for many reasons. An aspect of that being the seclusion, serenity, and beauty that you find when traveling through the pristine wilderness. Simultaneously, this landscape is overflowing with chances to explore while on your romantic Alaskan getaway. It makes sense that many couples would come to Alaska to celebrate their love and create more memories together. With captivating scenery meeting you around every turn, your adventures become limitless. Alaska offers the perfect backdrop for your intimate experiences. One option that is sure to top all others when creating your own private getaway [...]
Exploring Alaska's Canyons Just 10 miles down the road from their home base in Glacier View, guides at MICA have been cultivating a new way to explore the Matanuska Valley; An Alaska canyoneering adventure in the Talkeetna Mountains. This new idea of exploration was seeded a couple summers ago by guides curiosity and building more connections to the area around them. Today, they run guided trips through Jackass Canyon, rated as a 4C section. Not only is this canyon teeming with spectacular views, multiple rappels take you right down alongside full flowing waterfalls. Luke, a third year senior to [...]