Matanuska Glacier Flight and Hiking Tour
Travel by air and foot to get a true Matanuska Glacier experience with Sheep Mountain Air. Land far away from the other tourists and explore the amazing features the Matanuska Glacier has to offer! The Matanuska Glacier Flight and Hiking Tour quickly gets you to the most spectacular features on Matanuska Glacier, and then puts you on the ground to experience them up close and personal.
Along with the glacier, this helicopter adventure includes scenic views of the Matanuska River, nearby mountain peaks, as well as openings for wildlife sightings. Nothing beats a helicopter ride for soaking up these Alaskan sights…except for maybe landing and exploring it for yourself!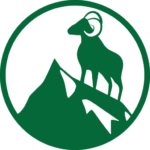 After landing, you'll be given micro spikes to walk on the ice, stepping foot where so very few are able to go. Your guide will show you to some of the most remote and unique ice features. Get ready for a perfect photo-op as you stand on top of this magnificent 26 mile long, 2 mile wide glacier, creating a memory that will last a lifetime.
What to Expect?
Your tour will include 30 minutes in the helicopter with a scenic flight exploring the river, peaks, and glacier, as well as spotting wildlife.
Every guest is provided a personal headset for narration during your flight. All seats in the helicopter have spectacular views out the side or straight ahead through the windshield and a full sized window for every seat.
**Pro Helicopter Tip – Light colors on the inside of the helicopter will reflect off of the windows. In order to have the best view and picture perfect moments, wear dark colored clothing for your flight and don't forget your camera!
After the helicopter tour, you'll get to experience a glacier landing right onto the ice! You will be provided with micro spikes and follow your pilot on the glacier. You'll get to enjoy breathtaking features and the best views possible for 30 minutes!
**Pro Hiking Tip – Hiking on ice is very different than on land. If you prefer to stay in your own shoes, make sure they are supportive hiking boots. If yours are not just let your glacier crew know and we can offer a pair to borrow for the tour.
This exclusive tour includes:
Check in at Sheep Mountain Lodge
Priority boarding on the helicopter
Private glacier adventure catered to your group
30 minute scenic helicopter flight with Sheep Mountain Air
30 minutes of private on ice experience with glacier guides
* Minimum age 6 years old, a minimum of 2 paying guests to fly, and children under the age of 12 must be accompanied by an adult. *