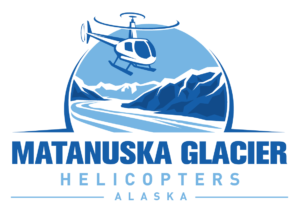 (907) 351-7587
Matanuska Glacier Helicopters offers Helicopter Tours from Sheep Mountain Air, with Glacier Landing Activities from MICA Guides. Ranging from Relaxed Aerial Glacier Sightseeing to an Advanced Fly-In Trekking or Ice Climbing Expedition, the choice is yours.  Matanuska Glacier Helicopters helps you see the Matanuska Valley in all of it's glory.  The Matanuska Glacier stretches 27 miles into the mountain, and we don't want you to miss out on an inch of it.  From the air you can see the glacier, the surrounding mountain passes, and Alaska's majestic wildlife.  Matanuska Glacier Helicopters brings together the highly trained guides from MICA Guides and the best Alaska helicopter professionals from Sheep Mountain Air to make these tours a must do when traveling to Glacier View, about 2 hours NE of Anchorage. We also offer Winter Tour Options
Spend the night out on a glacier in luxury.  Fly out and camp in comfort and style.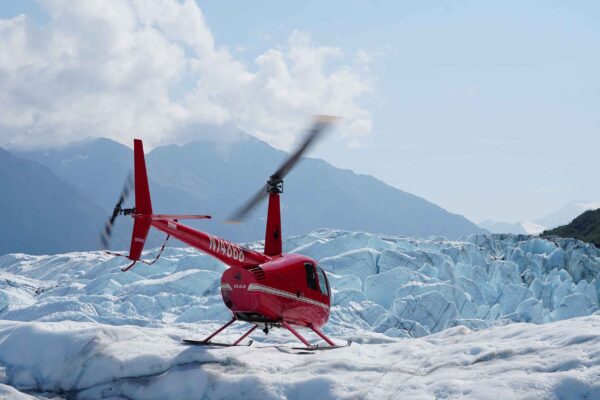 Spend 6-7 hours on ice, after taking a scenic flight out on a Helicopter.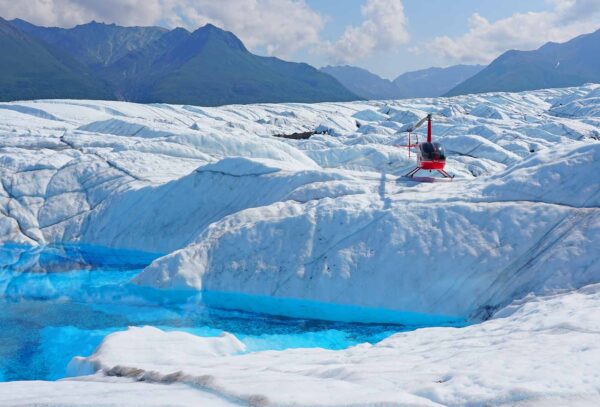 Take the express lane to Matanuska Glacier. 30 minutes in the air and 15 minutes on ice.
Let us know what you want out of your 1.5 hour helicopter and glacier activity.
Matanuska Glacier Helicopters and Hikes
Let Matanuska Glacier Helicopters coordinate an aerial view of the Matanuska Glacier, the Matanuska River, and the Peaks of the Surrounding Mountain Range.  Book your Tour, and prepare to be in awe. We are a short drive from Anchorage, with a beautiful scenic drive the whole way here. Sheep Mountain Air can take you up for 25 minute flights, or land you on the glacier to join MICA Guides for an incredible hiking experience.  We want to make this flight one of the best experiences of your life, so Book Online or call us at  (907) 351-7587
Guided by MICA Guides, Flown by Alaska Professionals
MICA Guides is part of the Exposure Alaska family of companies providing a variety of Guided Tours in Alaska, including Glacier Hiking, Ice Climbing, Trekking Expeditions, Kayaking Trips, Zipline Adventures, and more.  MICA Guides accommodates all levels of tours, from Scenic Hikes to Multi-Week Expeditions through the wilderness.
We only fly with the best!  The most experienced pilots with the best helicopters.  We may partner with different flight operators depending on the location and the mission but they're all licensed, insured, and experienced in Alaska aviation.
We want you to see the Matanuska Valley the right way, from the sky.  The immense scale of the glacier can only be truly realized from the seat of our helicopters.  Guided by MICA Guides, one of the most popular Guiding companies in Alaska, our helicopter tours have the best local information from people experienced in hiking, climbing and mountaineering. All of our guides and pilots are rigorously trained and prepared to make your tour as good as it gets.
Matanuska Glacier News
The Experience of a Lifetime In the summer of 2020 with the help and expertise of MICA Guides, Alpenglow Luxury Camping, and Matanuska Glacier Helicopters, the Glacier Overnight Adventure was created. This is a truly unique way to experience Alaska and the Matanuska Glacier. The Glacier Overnight Adventure is a remote, fly-in camp set up a few miles back on the Matanuska Glacier. When it all started a few years back there were backpacking tents set up on the ice. By year 3, we had three platform canvas bell tents with queen-sized beds! Since those early days in 2020, [...]
Alaskan Wildlife Alaska is well known for its spectacular wildlife both big and small.  People come from all over the world to experience the wild and grandeur of the Alaskan terrain. One of the best ways to see some of Alaska's most sought after wildlife is via helicopter. Helicopter tours provide a unique aerial view covering more ground than you could on foot or by car. View from helicopter flight through the Matanuska Valley Many parts of Alaska remain untouched and in their purest natural form making it a haven for outdoor lovers everywhere. Whether you are [...]
Glacier Photography Tours Heading out onto the 27-mile long Matanuska Glacier provides an opportunity to catch those beautiful sunny days and superb lighting. Often, the sun is shining, the blue ice glimmers, and the adventure is boundless. It only makes sense that you would want to capture the perspective of these breath taking elements as you explore. Finding those perfect shots on a glacier can come with some hurdles. Now, you can take those challenges in stride, capture great photos and videos, and have a fun time exploring the ice. Take out some hassle and have [...]