According to the  Alaska Travel Industry Association and the Alaska Department of Commerce, nearly 1.8 million people were experiencing Alaska last summer. With the number of visitors rising every year for the last decade, planning a trip to the 'Last Frontier' may feel daunting, but there is good news! There are plenty of ways to explore this vast beautiful state without the crowds.  Here are some tips to get you started.
1. Take to the Skies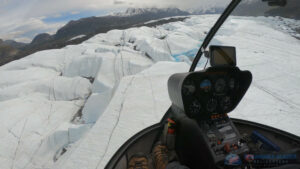 Three, two, one lift-off! Leave all of the crowds on the ground as you get up close and personal with Alaska's incredible landscape and wildlife with a helicopter tour.  From a bird's eye view you can experience the jagged mountains and peaks, braided rivers, green valleys, and glacial blue pools without any distractions! Enjoy parts of the Matanuska glacier, the longest car accessible glacier in Alaska, rarely seen by visitors. With a helicopter, one of Alaska's top attractions is at your fingertips!
2. Go Farther and See More with a Guide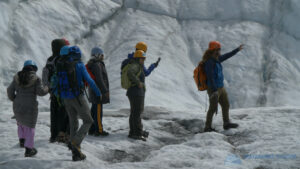 Next, explore glacier ice caves, witness Alaskan wildlife in their natural habitats, and venture through the state's pristine ecosystems. With a guide you can experience the best activities Alaska has to offer without the planning or worrying. Want to try ice climbing?  MICA guides on the Matanuska glacier will lead you on an unforgettable adventure. Looking for a multi-day backcountry trip? Exposure Alaska will plan it all. Sea-kayaking in the prince William sound, then glacier trekking on the Matanuska, and  hiking in hatchers pass! Go farther, see more, and explore places other tourists can't!
3. Connect With Nature and Go Camping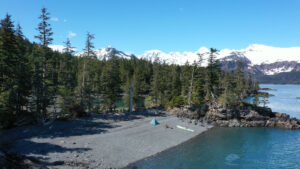 Disconnect from the fast-paced technology driven world with a night out in nature.  Fall asleep to the quiet bubbling of a river, enjoy the warmth of a campfire, and truly connect with those around you.  Want something a bit more luxurious? Alpenglow Luxury Camping in the Matanuska Valley will cater to all your creature comforts with canvas tents, memory foam mattresses, and a wood burning hot tub. Need I say more?
4. Take to the Open Road
Get away from the big cities and go for a road trip.  Boasting nearly three million lakes, over 100,000 glaciers, and thousands of miles of coastline, the open road is one of the best ways to experience Alaska. With 5 nationally designated Scenic Byways, 3 of which start in Anchorage, you have so many options!